Synthetic Skunk Cap – a fun and eco-friendly accessory that's sure to turn heads! Made from a blend of black and white Acrylic and Modacrylic, this hat is soft, comfortable, and easy to care for. The faux fur has a realistic look and feels, making it a great choice for those who want to embrace their wild side.
This hat is perfect for animal lovers, party-goers, or anyone looking to make a statement. It's also a great choice for those who want to support eco-friendly products.
Whether you're dressing up for Halloween, a costume party, or just looking to add some whimsy to your everyday wardrobe, this Synthetic Skunk Hat is sure to make a splash.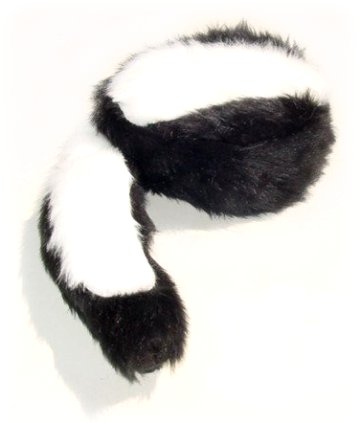 Product Options

| # | Option | Price | Weight | Stock |
| --- | --- | --- | --- | --- |
| 1 | 1-Small 22" | $25.00 | 1.00 lb | 14 |
| 2 | 1-Medium 23" | $25.00 | 1.00 lb | 21 |
| 3 | 1-Large 24" | $25.00 | 1.00 lb | 19 |
| 4 | 1-X-Large 25" | $25.00 | 1.00 lb | 13 |
| 5 | 12-Small 22" | $150.00 | 12.00 lb | 0 |
| 6 | 12-Medium 23" | $150.00 | 12.00 lb | 0 |
| 7 | 12-Large 24" | $150.00 | 12.00 lb | 0 |
| 8 | 12-X-Large 25" | $150.00 | 12.00 lb | 0 |

Shipping

Standard (Shipping Zones by Country)

| Weight | Zone 1 | Zone 2 | Zone 3 |
| --- | --- | --- | --- |
| 1.00 lb | $5.00 | $15.00 | $25.00 |
| 2.00 lb | $5.00 | $15.00 | $25.00 |
| 3.00 lb | $9.50 | $15.00 | $25.00 |
| 4.00 lb | $9.50 | $15.00 | $25.00 |
| 5.00 lb | $10.00 | $15.00 | $26.00 |
| 6.00 lb | $10.50 | $15.00 | $26.00 |
| 7.00 lb | $10.50 | $16.00 | $26.00 |
| 8.00 lb | $11.00 | $16.00 | $30.00 |
| 9.00 lb | $12.00 | $16.00 | $30.00 |
| 10.00 lb | $13.00 | $20.00 | $40.00 |
| 11.00 lb | $14.00 | $20.00 | $0.00 |
| 12.00 lb | $15.00 | $20.00 | $0.00 |

2nd Day Air UPS (Shipping Zones by Country)

| Weight | Zone 1 | Zone 2 | Zone 3 |
| --- | --- | --- | --- |
| 1.00 lb | $25.00 | $0.00 | $0.00 |
| 3.00 lb | $25.00 | $0.00 | $0.00 |
| 5.00 lb | $25.00 | $0.00 | $0.00 |
| 7.00 lb | $50.00 | $0.00 | $0.00 |

Next Day Air UPS (Shipping Zones by Country)

| Weight | Zone 1 | Zone 2 | Zone 3 |
| --- | --- | --- | --- |
| 1.00 lb | $45.00 | $0.00 | $0.00 |
| 2.00 lb | $45.00 | $0.00 | $0.00 |
| 3.00 lb | $45.00 | $0.00 | $0.00 |
| 4.00 lb | $45.00 | $0.00 | $0.00 |